DURATREAD® Stair Tread Covers

DURATREAD™  molded fiberglass stair tread covers provide an easy, cost-effective way to increase the safety of stairways. The covers are intended for installation over concrete, metal or wood steps. Fiberglass stair treads may also be covered with DURATREAD™ .
DURATREAD™ stair tread covers are ideal for use in any area where frequent use or exposure to slippery environments increases the risk of accidents. The ADA compliant covers feature a durable gritted surface and a highly visible nosing to ensure years of safe, maintenance-free service. DURATREAD™ covers also improve the appearance of warped, chipped, and rotten steps and are perfect for use in commercial building applications where it is important to maintain an attractive appearance.
Typical applications include:
• Amusement/Water Parks
• Hotels/Motels
• Outdoor Stairways
• Outdoor Sports Facilities
• Restaurants
• Food Processing Facilities
• Chemical Processing Plants
• Water/Wastewater Treatment Facilities
• Offshore Oil and Gas Platforms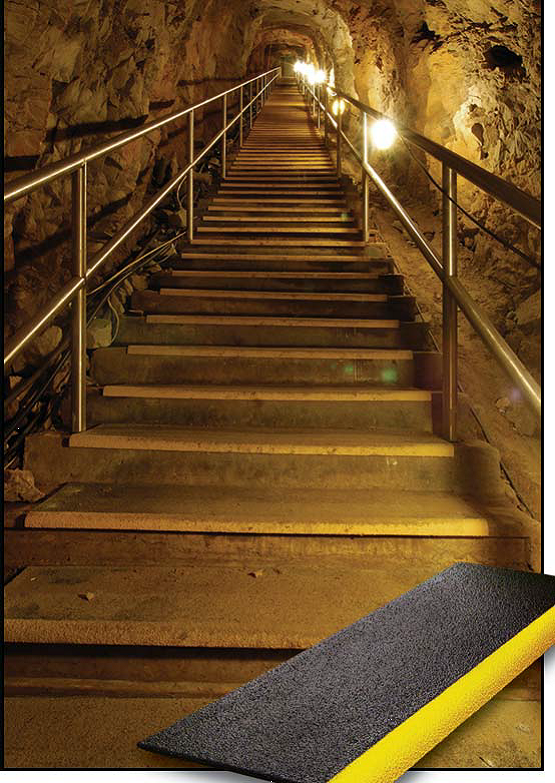 GEF Incorporated, We have them in stock...
• Slip Resistant
• Durable
• Impact Resistant
• Low in Maintenance
• Easy to Cut/Install
• Corrosion Resistant
• Lightweight
• Nonconductive
DURATREAD™ molded fiberglass stair tread covers are manufactured using high strength fiberglass mat in combination with a choice of resin systems. The top surface is coated with an aluminum oxide grit to provide a slip resistant, durable tread.
DURATREAD™ covers are available in a variety of resin systems designed to suit different applications and environments.
Installation
1. DURATREAD™ covers should be installed on a clean, level surface. Use grout or other suitable material to level uneven surfaces prior to installation.
2. Sand the bottom surface of the stair tread cover if bonding tread covers to stairs. Two-part epoxy is recommended.
3. Use wood screws to thru-bolt covers to wood stairs. Use expansion anchors, sleeve anchors or concrete screws to fasten covers to concrete stairs. If fastening covers to steel or fiberglass stair treads, use a plate washer with a truss head bolt and nut. All fasteners should be 316 stainless steel.
4. When installing DURATREAD™ covers over grating treads, field drill holes so that fasteners will not interfere with grating bars.
Availability
DURATREAD™ covers are available in thicknesses of 1/8" and
1/4". Standard depths are 8", 9", 10", 11" and 12". All stair tread covers are available in 12' lengths. Other lengths and depths are available upon request.
The standard color for DURATREAD™ covers is dark gray with a bright yellow nosing for increased visibility. One-color covers and other color combinations are available upon request.
Sample Anchor/sites/default/files/Product%20Brochures/Duratread%20Stair%20Tread%20Cover%20-%20GEF%20Inc%20.pdf