EZ Tanktop Handrail System just for YOU!!!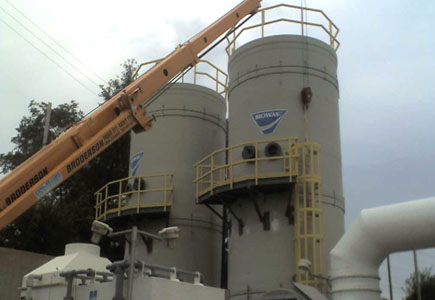 For all those FRP Tank Manufacturers:
EZ Packaged System, EZ Inventory, EZ Installation... YOU can't go wrong, it's EZ ...
Introducing our EZ Tanktop Handrail System. Packaged as a kit so you have all you need when you start. From the prefabricated rails down to the kick plate and hardware, it's all in the kit. This tanktop handrail kit can be unpacked and set up in less than 15 minutes and ready to fit to the tank top. We have several FRP tank manufacturers that use our kits because of the improvement in shop time, efficiency and productivity, The EZ-Universal kits allow the manufacture to stock one kit that will cover several sizes, such as 8' round to 12' round and 11' round to 15' round. This alone will reduce inventory costs and allow you to have kits in stock when you need them. Need someting special for your production needs? Standards like: special-size gate, 3,4, or 5 rail systems, special mounting clips, NO PROBLEM, GEF can make the kit specifically for you. Give us a call and GEF will visit your facility and work with your crew on all your specifics, we will tailor the product to your needs.