Covering the trenches with UTILICOVER®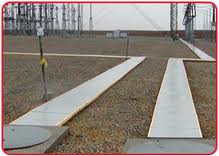 Two substation installation jobs in Virginia and Tennessee were recently completed, immediately displaying the benefits of the new covers. In the course of six and a half days, a three-man crew used only 12 tons of UTILICOVER® panels to replace 70 tons of concrete covers! The project manager stated the UTILICOVER® covers were installed more quickly by hand than the concrete covers could be removed with an excavator.
UTILICOVER® was developed by GEF Incorporated, located in Winfield, WV.
GEF manufactures, sells and installs UTILICOVER® in the states of West Virginia, Ohio, Pennsylvania, Maryland,
Virginia, North Carolina, Kentucky and Indiana.