Coal Tipple gets long-lasting improvements with SAFRAIL™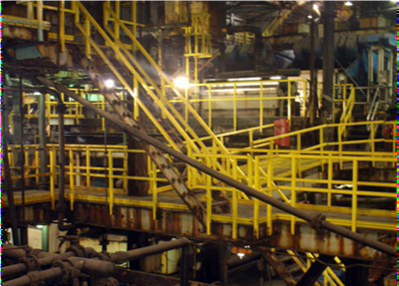 More than 12 years ago, a local coal company decided to expand one of its preparation facilities. Due to the deterioration of the existing steel structure (both carbon steel and stainless steel), the project engineer elected to use as much non-metallic structure as possible in the expansion.
SAFRAIL™ square tube industrial handrail combined with DURADEK® I-6000 grating and stair treads were specified in all areas of the new section. This picture was taken after 12 years of service. The fiberglass had not suffered any corrosion-related problems, while the metal structures around the fiberglass railing and platforms were failing.
SAFRAIL™ systems offer these advantages:
Ease of Assembly – Produced in lightweight standard sections that include both post and rail. Prefabricated and shipped to the site or just "do-it" on site.
Internal Connection System - All connections fit flush for a streamlined appearance. The internal connections allow the construction of continuous handrail systems.
Safety Features - Systems come in a "safety yellow color," with low electrical conductivity and high strength. Systems meet federal OSHA and International standards.
Low Maintenance - Molded-in color plus an optional tough polyurethane coating will outlast aluminum or steel systems.
Cost Effective - Fiberglass components save on labor and maintenance, resulting in long-term savings.