Protecting our Critters and Our Environment, The Bat Gate by GEF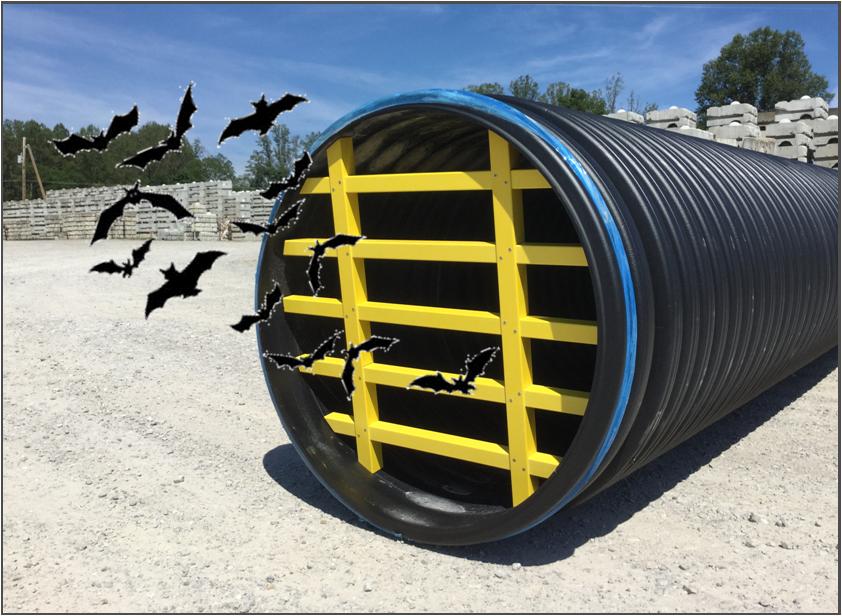 Abandoned underground mine openings pose serious threats to human safety. To protect the public from the hazards of abandoned mines many agencies have installed wildlife-passable gates at mine openings. Over seventy percent of abandoned mines in the US show some evidence of bat activity. Curry (2001) suggests that bat compatible gates (Bat Gates) can be considered successful if the structure keeps people out, does not adversely effect mine microclimate, and the bat population remains stable or increases. For the most part, these gates have effectively excluded 95% of the public from the dangers of abandoned mines and allowed the cave dwellers a safe haven to reside. What GEF has done is designed and fabricated a Bat Gate using Safrail® pultruded fiberglass. The use of the GEF Bat Gate to secure mine openings will eliminate all of the problems the agencies and contractors have shared with us about metal gates, see below.
  The GEF Bat Gate offers these benefits over other materials.
The GEF Bat Gates are made of pultruded fiberglass materials, using stainless fasteners for strength and durability.
The GEF Bat Gates are lightweight, on average over 75% lighter than other metal gates. That makes the Bat Gate assembly easier to get to the remote area where an abandoned mine opening is located. When needed, one person can pack in a GEF Bat Gate and the materials can easily be assembled on location.
Fiberglass material has "No Salvage Value" which means there is no reason for theft. 
The GEF Bat Gates are environmentally friendly, they emit no harmful elements to the wildlife, the waterways or the environment.
The GEF Bat Gates never rust, rot, corrode or decay.
The GEF Bat Gate can be fabricated (in house and/or on-location) in any size or configuration.
Ease of installation, many different mounting brackets and configurations are available.
The standard colors are yellow (for visual means) and gray (to blend into the surroundings).
All measurements meet ACCA and BCI requirements.
The GEF Bat Gates are being used in Pennsylvania land reclamation projects.

Click on Bat for Brochure
Contact us for more information on these and other great fiberglass products. Already know what you need? Request For Quote.