Common Questions About Aquawrap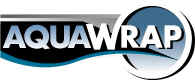 View as pdf
What sizes does the Aquawrap® come in?
The standard PRT Aquawrap® comes in widths of 2,3,4,6,10 and 12 inches. The material ranges in length from 5 feet to 30 feet in the smaller width materials and lengths up to 150 feet in the wider materials. Custom sizes can be accommodated for specific needs on large projects.
What materials can Aquawrap® be installed on ?
The Aquawrap® can be installed on almost any material with very few exceptions.
What types of repairs is Aquawrap® best suited for?
The Aquawrap is best suited for structural reinforcement applications. It can replace hoop and axial strength to piping restoring its original capabilities. It is effectively used to reinforce infrastructure such as piers and supports for concrete remediation projects. It is also remains the product of choice when installing in wet or underwater conditions.
How long does Aquawrap® take to cure?
Once the airtight bag is opened, the Aquawrap® has a total working time of approximately 60 minutes at 77F (25C). Even the slight moisture in the air will begin the curing process, so it is important to have the surface prepared and work area ready before opening. When the installation begins, it is necessary to apply water to fully activate the material. The cure time is approximately 30 minutes after water is applied. Curing will occur more slowly at lower temperatures and faster at higher temperatures. Full cure properties for Aquawrap® are at 24 hours.
What are some of the strength properties of Aquawrap®?
The Aquawrap® is available with several types of substrates or fabrics for different applications. As a brief summary, these have me- chanical properties up to 123,000 psi Tensile Strength, 28,500 psi Compressive Strength, 3,465 psi Interlaminar Shear and 1,000 psi Adhesion (Lap Shear). These values have been determined by ASTM testing procedures performed and certified by independent testing laboratories. The Aquawrap® is simply the most thoroughly tested and proven Pre-Preg composite available.
Up to what temperatures and pressures can Aquawrap® be used?
The Aquawrap® can be used in applications with a sustained temperature up to 288F (142C).With regard to pressures, the com